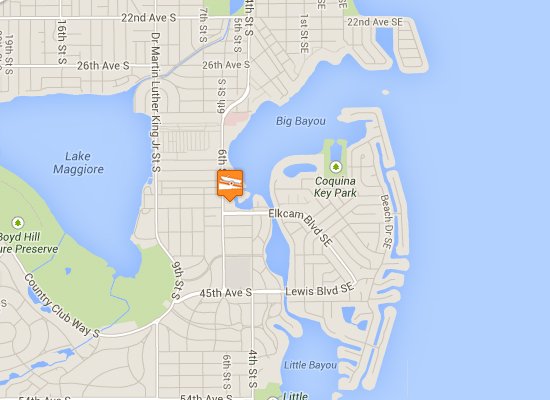 6th St. S & 39th Ave. S.
St. Petersburg, Florida 33705
Coordinates: 27.734276, -82.640221

The Grandview Parks boat ramps, also known as the Coquina Key boat ramps, are located just off 6th St. South on Big Bayou adjacent to the North entrance to Coquina Key (39th Ave. S).
There was more than enough parking for a typical weekend. We put in on a beautiful Sunday around mid-day and there had to be 30 open parking spaces of sufficient size for trailers.

If you haven't been to the Grandview Park boat ramps recently... you haven't been there. The city closed down the ramps for construction and they have been completely redone. No more pot holes off the paved surface, smooth surface, floating docks, etc. everything is first rate!
The only issue that I found was that both ramps are extremely shallow. On our visit we launched my sons 13' Whaler from one side, and picked from the other and in both cases it required getting the wheels wet. I don't think I'd even try to launch a larger boat from here as you'd have to be submerged to the wheel wells.

If you put in from Grandview be sure to head North from the dock whether you're headed to/through Big (North) or Little (South) Bayou's. Once you get to the main channel you'll see channel markers headed north and the canal to the South. Larger vessels will want to head through Big Bayou (stay close to the channel markers) as the clearance under both Coquina Key bridges is very low.

I did not see any hours posted, or gates so it's safe to assume that you can access the ramps at any hour.