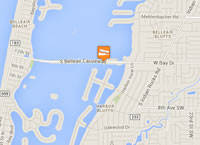 3900 W. Bay Dr
Belleair Bluffs, FL 34640
Coordinates: 27.916912, -82.827843

The Belleair Causeway Boat Ramp is on the North side of the causeway providing easy access when heading West on W. Bay Drive.
There are over 100 parking spaces designated for vehicles with trailers and I have been there on a few of the busier weekend days of summer and have always found open spaces.
Belleair's ramps are extremely well maintained, free of debris and of sufficient angle/dept to launch larger vesses. With 10 launch lanes there is rarely a need for waiting.
Parking is $6 daily, it's automated and does take credit cards. Two other great ammenities are restrooms and a wash down area to tidy up before hitting the road.
Head North out of the ramps for 15 minutes or so to Clearwater Pass if you're heading to the Gulf. The area betweeen The Belleair Causeway and Clearwater pass is not a restricted speed zone and the channels are clearly marked.