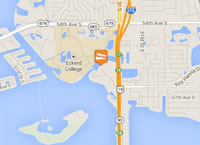 34th St. & Pinellas Point Dr. S
St. Petersburg, FL 33711
Coordinates: 27.712257, -82.682617

Maximo Park boat ramps are located in Maximo Park at the last exit on 275 before the Skyway if you're heading South, or the first afterwards if you're heading North.
The park opens before dawn and closes just after dusk and is free to the general public. On nice weekends and holidays there can be a tremendous number of boaters using the ramps, but even then it's a pretty good place to be.

Free, in great condition, facilities, plenty of parking and easy access to the interstate!
Parking is never a problem as it allowed almost everywhere in the park unless marked otherwise. If the designated spaces are full be careful about parking near the frisbee golf holes for obvious reasons.
Maximo features 6 ramps with 8 lanes and all are extremely well maintained. The North ramps, the first you'll see, provide more room and are a little steeper so launching larger vessels at any tide is a non-issue.
The South ramps provide a little less room and aren't quite as steep so get considerably less traffic. If there are folks waiting at the North ramps and you have a smaller vessel it's almost always the better choice... particulary if you're launching on a weekend after 9 or so as it's closer to available parking (take a right and park on the grass across from the picnic areas).
If you're coming in, and it's really busy, the South ramps have a well maintained dock that you can tie off to temporarily to lighten the load or let someone off to get the trailer in position.

There are occasionally folks fishing there and in that case it's much better to skip it... and the southernmost ramp altogether.
Coming out of favor the right side of the channel (the grass flats extend further from the park than Eckerd College).

South: bear left and pop off to Pass A Grille, Bunces Pass or head on out to The Skyway.

North: bear right to Boca Ciega Bay toward the ICW for Treasure Island, Johns Pass, etc. (many minimum wake zones)